Trump Wants to Eliminate the Most Important Civil Rights Agency You've Never Heard Of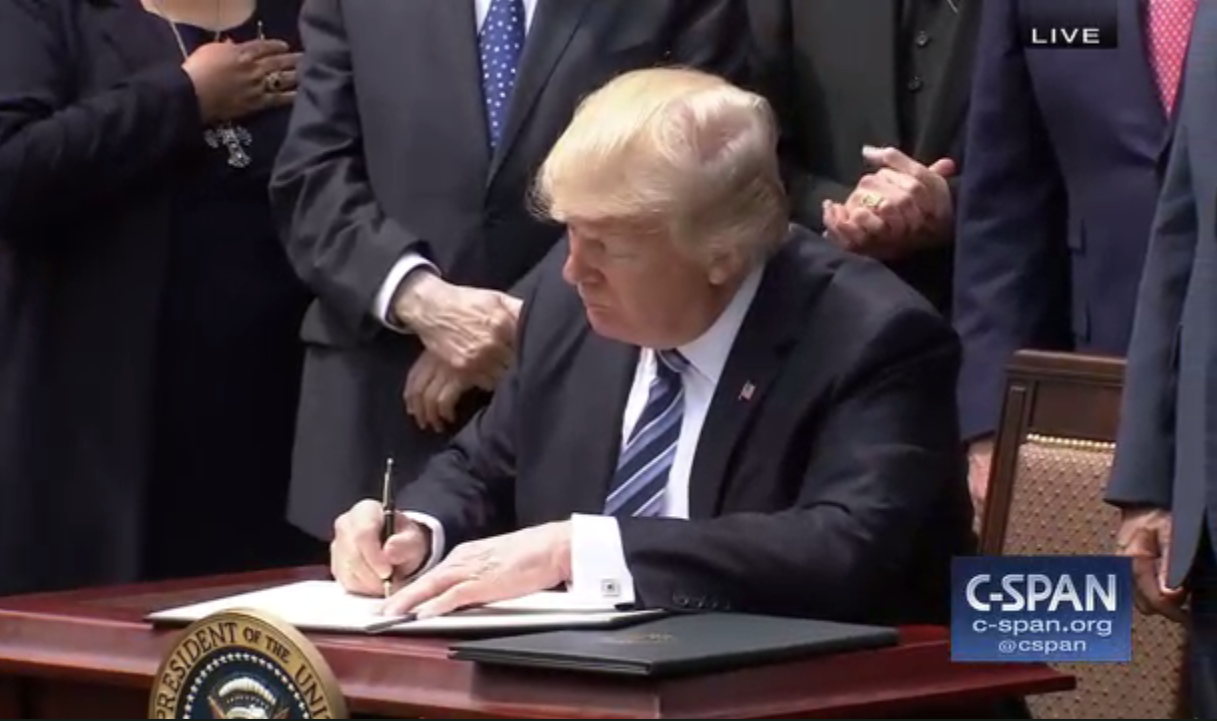 To his growing list of "Ways to Make Life Miserable & the Government Less Effective," Trump has added a new proposal: eliminate the Office of Federal Contract Compliance Programs (OFCCP) and reassign its functions to the Equal Employment Opportunity Commission (EEOC).
That's a wonky idea in both senses of the term. So let's break down why this latest proposal, which Trump included in the budget he released today, is a no-good, very-bad idea.
We need OFCCP to ensure workplace fairness in the U.S.
OFCCP is one of the major civil rights enforcement offices in the United States.  It is the part of the Department of Labor that oversees the employment practices of federal contractors. Federal contractors are businesses that have a contract to do work for the federal government—for example, they might be producing all the paper the government uses to print your social security card or doing groundbreaking cancer research at a university. What's important to realize is that these businesses are paid for their work with our taxpayer dollars. Given that they are entrusted with your money and my money, we hold them to higher standards of workplace fairness because, if you are going to take my hard-earned tax dollars, the least you should do is make sure they aren't being used to reinforce the racist and sexist workplace standards of the 1950s.
OFCCP plays the very important role of ensuring that federal contractors do what they are supposed to do by law: proactively monitor workplace diversity and pay equity, make a meaningful effort to recruit qualified applicants from groups who are under-represented in their workplaces, and break down barriers to equal opportunity for women, people of color, LGBT people, veterans and individuals with disabilities. And there aren't just a few federal contractors out there—federal contractors employ one quarter of the American workforce. So workplace fairness in the U.S. of A depends on the OFCCP being able to robustly enforce our nation's civil rights laws.
Zapping OFCCP and reassigning its functions to the EEOC is not about government efficiency, it's about making it more difficult for federal civil rights agencies to enforce the laws
By taking OFCCP's really important functions and plopping them into the EEOC—the agency tasked with remedying employment discrimination complaints—Trump would gravely jeopardize the crucial civil rights work of both agencies. OFCCP's and EEOC's missions are complementary, but different. OFCCP enforces rights and undertakes systemic compliance reviews that go beyond those in the EEOC's purview and OFCCP's staff has training and expertise in federal contracts that the EEOC staff would take years to develop. What's more, the EEOC is already over-burdened and underfunded, resulting in a large backlog of cases; it does not have the capacity to absorb the OFCCP's distinct and important functions. And guess what: the Trump budget isn't proposing that EEOC's funding be upped  at all to do this new work.
Workers and businesses alike think it's a bad idea
Eliminating the OFCCP and reassigning its responsibilities to the EEOC would severely undermine civil rights protections and be a very bad deal for workers. It would also be a bad deal for businesses, which is why business groups such as the Chamber of Commerce and the Society for Human Resources Management are opposing it. When pro-worker and pro-business groups agree that something is a bad idea, you know it is a disastrous idea.