It's Been Three Years Since the Hobby Lobby Decision — and It's Only Getting Worse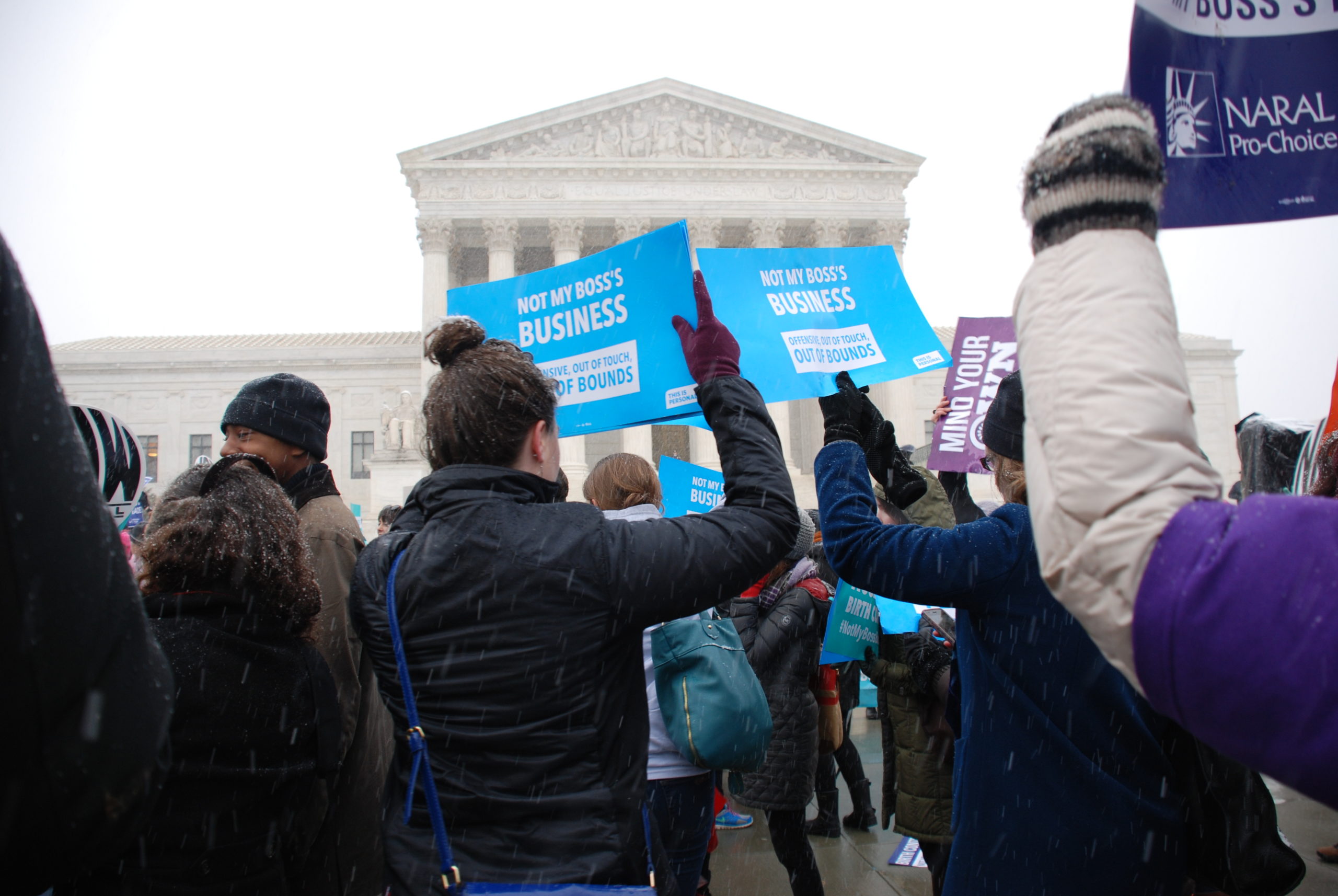 "The Court, I fear, has ventured into a minefield." With these words, Justice Ginsburg's dissent in the infamous Hobby Lobby case became the mic drop heard round the world. Or at least around the community of Supreme Court followers and progressive advocates that make up my world. Today on the third anniversary of the Hobby Lobby decision it's clear that those words are more than badass, they're prophetic.
The Spark
Three years ago, the Supreme Court held that under the Religious Freedom Restoration Act (RFRA) some for-profit employers can refuse to comply with the birth control benefit in the ACA, allowing these employers to impose their religious beliefs on their employees. Not only did the decision ignore the health and well-being of the employees affected by the case, it opened the door for people and companies to try and use RFRA to claim that laws don't apply to them—Justice Ginsburg's minefield. Only since the decision, it hasn't been the Court dodging the dangerous blasts, it's women, LGBQ and trans folks, students, and so many others that need the protection of our public health and civil rights laws.
The First Year
The National Women's Law Center has been tracking the damage, and a year out we wrote a report documenting the many cases using RFRA to challenge important protections.  In the first year alone, RFRA was used to challenge antidiscrimination laws and to undermine laws that protect employees by allowing them to unionize, promote public health by requiring vaccination, and require pharmacies to fulfill lawful prescriptions. And if that's not bad enough, it was even used as a defense in a case involving kidnapping.
It's Only Getting Worse
Since that report, things have, somehow, gotten worse. Across the country, employers and companies are increasingly using religion to discriminate.
When a teacher at a Catholic school reported that a co-worker was sexually assaulting a student, the school fired her. The retaliation violates Title IX's important civil rights protections, but the school argued that, because of RFRA, Title IX doesn't apply.
Critical antidiscrimination laws prohibit employers from firing someone because of their sex, gender, or gender identity. But when a funeral home fired an employee because she is transgender and argued they are allowed to discriminate because of RFRA, the court agreed.
Masterpiece cake shop is trying to use to RFRA to say Colorado state law prohibiting businesses from discriminating based on sexual orientation, race, sex, or disability shouldn't apply to them. The shop wants to be able to discriminate against gay couples by refusing to serve them.
Looking Ahead
The Supreme Court's newest Justice, Neil Gorsuch, is a big fan of RFRA. He has a history of giving near absolute deference to plaintiff's claims that they should be allowed to use it as a license to discriminate.  And Gorsuch may have a chance to extend this record—earlier this week, the Court decided to consider the Colorado cake shop's case. We are standing in the middle of Ginsburg's minefield, and the path out looks bleak.