Reminder: The Trump Admin Went Out of Their Way to Erase LGBTQ People from the Census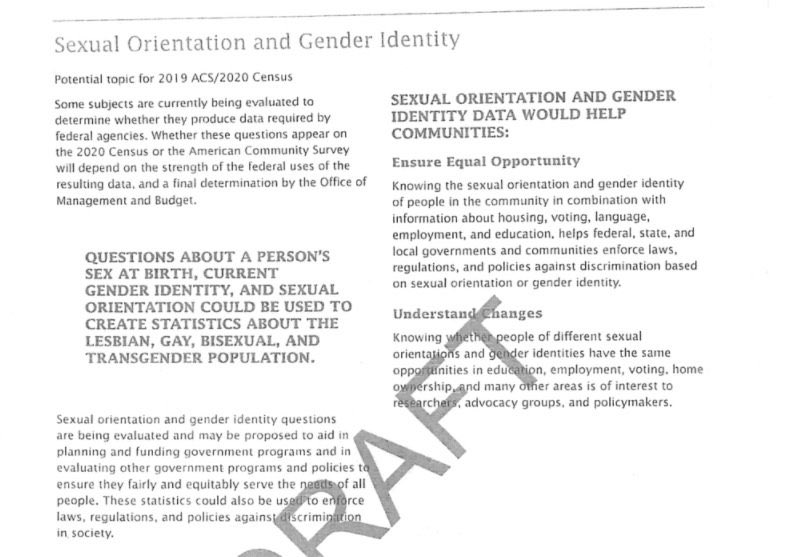 This month at NWLC, we've been busy pushing out our new analysis on the Census data that came out last week.  The Census data gives us valuable information about income (including the numbers we use to calculate the wage gap), poverty, and health insurance, but it's still missing something important – the Census doesn't collect information on sexual orientation or gender identity.
Not counting LGBTQ people actively hurts LGBTQ people
We've been over this before. Failing to collect information about sexual orientation and gender identity has real effects on policy; it means that we have less data to point to when speaking to advocates, policymakers, and the general public about pressing issues like closing the wage gap that bisexual women face – a wage gap that recent studies have indicated is larger than both the wage gap lesbian women and the wage gap straight women experience.
The Census data also helps the government decide how to allocate resources and federal funding. Meghan Maury, from the National LGBTQ Task Force, who served on National Advisory Committee on Racial, Ethnic, and Other Populations (a committee that advises the Census), noted in a statement, "If the government doesn't know how many LGBTQ people live in a community, how can it do its job to ensure we're getting fair and adequate access to the rights, protections and services we need?"
This year it was different (and worse)
For clarity – there are actually two main surveys we talk about when talking about Census data. The first is the American Community Survey, which is an annual survey that tracks different population demographics–that's the data we've been talking about the past two weeks. The second is the decennial U.S. Census, which will next take place as the 2020 Census. While the Census has collected information about same-sex couples since 1990, it has never collected information on LGBTQ individuals.
This spring, when the proposed survey questions came out for the 2020 Census in March, it seemed briefly like this was going to change. The list of proposed question included questions on sexual orientation and gender identity. Less than a day later, the U.S. Census issued a notice calling the LGBT categories an "error," and removed them.

While the exclusion of LGBTQ people from the Census in past years could have been chalked up to inaction – this year, the exclusion was an active decision.
This Administration decided that counting LGBTQ people was a mistake.
Federal agencies wanted to count people, too. NPR reported that
four different federal agencies had requested the questions be included
, including the Justice Department, the Department of Housing and Urban Development, the Centers for Medicare and Medicaid Services and the Environmental Protection Agency. Despite this, in March, the Census Bureau decided there was "
no federal data need
" to collect information on sexual orientation and gender identity.
Is anything being done about this nonsense?
This summer, Sen. Baldwin and Rep. Grijalva reintroduced the
LGBT Data Inclusion Act
, which would require agencies that rely on survey demographic data include information on sexual orientation and gender identity. If Congress passes a bill like this, the Census Bureau wouldn't have a choice– they'd have to collect information about LGBTQ people.
It's time for the government to start counting LGBTQ people, and stop playing politics with data collection.